Wednesday, July 13, 2011

at Dahlgreen Golf Clubin Chaska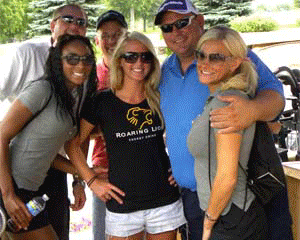 10 am Registration – Noon Shotgun Start
• 18 Hole "Scramble" Tournament with Cart!
• Complimentary Adult Beverages on Course!
• Win $10,000 at two Hole-in-one Contests!
• Prizes for Longest Drive/Putt, Closest to the Pin!
• Many Great Door Prizes and Goodie Bag Items!
• Lunch at the Turn, Plus Dinner & Awards Reception!
---
Last Year's MLBA Golf Outing
The
22nd Annual MLBA Golf Outing was held on July 7, 2010 at Dahlgreen Golf
Course in Chaska. Once again a completely full course of 40 teams (160
golfers) were treated to beautiful weather, adult beverage samples at
most every tee and two meals (Lunch before or "at the turn" and a Dinner
Reception). A big thanks goes out to all the vendors and hole sponsors
listed below who made this year's golf outing so great. Special thanks
to A-B and Illinois Casualty for sponsoring "Lunch at the Turn" and Ace
Ice for providing the ice. Scroll down for more photos.
This year's four-person
scramble tournament winners were "Team Cold Spring" of Mike Feldhege,
Adam Martin, Doug DeGeest and Matt Milbert. Second place went to Team
MillerCoors (Jon Chance, Marty Moldan Derrick Smigiel and Mark
Baranczyk). Two special team grand prizes were awarded this year to the
team that came in 22nd place (in honor of the 22nd annual MLBA Golf
Outing and the team that came in last place. Plus, every golfer got a
'goody bag' full of things like 50ml samplers, tees, can coolers, etc,
and every golfer got a door prize ranging from hats, shirts and balls to
coolers, golf bags, neon signs, chairs, grills, etc. So you don't have
to be great golfers in order to get great prizes at the MLBA Golf
Outing!
Keep an eye on mlba.com
and PROOF magazine for information about next summer's Golf Outing. We
strive to continue our tradition of making it better every year. If you
can't wait until next summer for a fun MLBA event. Plan to come to the
annual Midwest Expo on Sunday October 3rd at Jimmy's Conference Center in Vadnais Heights.
---
Special
Thanks to ALL Our
2010 Golf Outing Sponsors!!(Scroll down to see the Tee Vendors)

Ace Ice / Shamrock
Anheuser-Busch
Arctic Glacier Ice
ATM Network
August Schell Brewing
Bacardi USA
Beam GlobalSpirits & Wine
Boston Beer Co.
Brown-Forman
Capitol Beverage
Carlos Creek Winery
Church Offset Printing
Cold Spring Brewing
College City Beverage
Corporate 4 Insurance
Crosby Lake Spirits
Day Distributing
Deschutes Brewery

Diageo
Dwight Swanstrom Co
E & J Gallo Wine
Finnegan's Irish Amber
Focus Financial & Higher Standards
Forestedge Winery
Heaven Hill
Heineken USA
Hospitality Services
Illinois Casualty Co.
JJ Taylor
Johnson & Condon
Kim L Brown Insurance
Klinkhammer Financial
Locher Brothers
Metro Sound & Lighting
MGM Wine & Spirits
MillerCoors

MN State Lottery
Northern Brewing
O'Gara's Bar & Grill
Pabst Brewing
Paulet Slater Ins.
Pernod Ricard
Phillips Distilling
Pig's Eye Brewing
Proximo Spirits
Quality Wine & Spirits
Summit Brewing
Thorpe Distributing
Vinocopia
West Side Liquor Stores
Wirtz Bev MN Beer
Wirtz Beverage MN Wines & Spirits
Young Insurance
Special Thanks to 2010 Beverage Vendors
Listed Below by Tee
Special Thanks to the Dinner Sponsor:
Illinois Casualty Co. Arron Southerland
Special Thanks to the Lunch Sponsors:
Anheuser-Busch David Anglum • Illinois Casualty Co. Arron Southerland
---
First Place Team:Team Cold Spring

(Team members: Mike Feldhege, Adam Martin, Doug DeGeest, Matt Milbert)

Second Place Team:

Team MillerCoors

(Team members: Jon Chance, Derrick Smigiel, Marty Moldan, Mark Baranczyk)