Suburban voters give Democrats new control of MN House, keep Governor's office, Republicans maintain 1 vote majority in the MN Senate.
QUICK RECAP: Tuesday's General Election brought some changes to the Minnesota State Legislature. The Governor's office stayed in Democratic hands with the election of Congressman Tim Walz. The House flipped from GOP to DFL control, and the Senate stayed the same with GOP still controlling a one-vote majority. Interestingly, Minnesota will be the only state in the nation where the two legislative chambers will be controlled by different parties. Of the election results, Senate Majority Leader Paul Gazelka rightfully said, "You can't call it a blue wave. You can say it was a midterm adjustment."
Below are recaps of key races, followed by what it could mean for MLBA members.
MN GOVERNOR: Democratic Congressman Tim Walz handily won the governor's race against repeat candidate Republican Jeff Johnson. This keeps the office in Democratic hands following the retirement of two-term Governor Mark Dayton who chose not to seek re-election. Walz, from Mankato, represented southern Minnesota in the U.S. House of Representatives. He is a veteran and former high school teacher and coach. His running mate and Lt. Governor-elect is State Rep. Peggy Flanagan from St. Louis Park.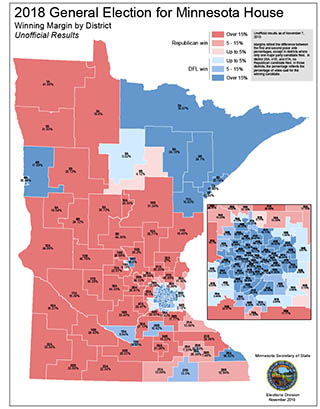 MN HOUSE: All 134 seats of the Minnesota House of Representatives were up for election this year. Democrats picked up/flipped 18 seats resulting in their new majority control of the Minnesota House of Representatives. Democrats will hold a 75 to 59 seat advantage (and they only needed 11 flipped seats to win the majority). Twin Cities suburban voters were largely responsible for the change with increased turnout. The following Republican representatives did not win re-election: Cindy Pugh (Chanhassen), Jen Loon (Eden Prairie), Keith Franke (St. Paul Park), Anna Wills (Rosemount), Roz Peterson (Lakeville), Kelly Fenton (Woodbury), Drew Christensen (Burnsville), Dennis Smith (Maple Grove), Regina Barr (Inver Grove Heights), Sarah Anderson (Plymouth), Randy Jessup (Shoreview), and Dario Anselmo (Edina). Several seats formerly held by Republicans (but who chose not to seek re-election) were also lost to Democrats (such as the Loonan seat in Shakopee, Dean in White Bear Lake, and Uglem in Coon Rapids/Champlain). Next session, due to retirements and the election results, there will be 39 new members of the Minnesota House of Representatives. These new legislators will need information and advocacy on our issues!
MN SENATE: Republicans will maintain their one seat (34 to 33) majority in the Minnesota State Senate after winning the special election in the St. Cloud area. While the entire MN Senate wasn't up for re-election this year, a special election was held because GOP Senator Michelle Fischbach became Lt. Governor (after Lt. Gov. Tina Smith became U.S. Senator). This district was reliably republican, and GOP State Rep. Jeff Howe won with 57% of the vote verses the DFL Stearns County Commissioner Joe Perske who received 42% of the vote.
FEDERAL RACES: U.S Senators Amy Klobuchar (D-MN) and Tina Smith (D-MN) were easily re-elected over their republican challengers, State Rep. Jim Newberger and State Sen. Karin Housley. (Sen. Housley will remain a state senator.) Several of Minnesota's U.S. House of Representative seats changed hands, with Congressman Erik Paulsen (R-MN-03) losing to democratic challenger Dean Phillips. Congressman Jason Lewis (R-MN-02) also lost to democratic challenger Angie Craig. The open seat in the Iron Range due to Congressman Rick Nolan (D-MN-08)'s retirement flipped to be held by a republican, St. Louis County Commissioner Pete Stauber who bested former State Rep. Joe Radinovich, a democrat. Congresswoman Betty McCollum (D-MN-04), Tom Emmer (R-MN-06), Collin Peterson (D-MN-07) easily won their re-election. Minnesota State Rep. Ilhan Omar won the open Congressional Seat in the 5th Congressional District (Minneapolis).  Congressional District 1 in Southern Minnesota will have a new congressman with the retirement of Tim Walz, but the outcome is still undetermined with Republican Jim Hegedorn 1,311 votes (0.45%) ahead of Democrat Dan Feehan with 100% of the precincts reporting. A winner may not be declared until the State Canvassing Board meets next week. A recount is possible but not mandatory. (Under Minnesota election law, there are no automatic recounts; however, a margin of 0.25 percent or less would trigger a recount funded by the public. A candidate may pay for a recount in a race with a greater difference of votes.)
U.S HOUSE/SENATE CONTROL: Nationally, Republicans also lost control of the U.S. House of Representatives with a large Democratic surge. This brings divided government back Washington, D.C.  Republicans maintained and increased their majority in the U.S. Senate.
MN VOTER TURNOUT: Minnesota's General Election again saw record voter turnout. Our state had the highest percentage of voter participation for a midterm election since 2002 with 63.82%.
NEXT SESSION: Minnesota's 2019 Legislative Session will convene on January 8, 2019. This is an earlier start than last year, and the session will be longer and largely focus on setting the state's two-year budget. Democrats are also citing cite gun safety, health care, education, federal tax conformity, and elder abuse on their list of priorities.  The legislature is expected to adjourn mid-May.
NEW CAUCUS LEADERS: New House GOP and DFL caucus leaders will be elected this week. All new House Committee Chairs will be announced in the following weeks, followed by committee members.
WHAT DOES THIS MEAN FOR THE MLBA?
We have reasons to be both optimistic – and vigilant – in the upcoming 2019 Minnesota Legislative Session which starts in early January.
MLBA's smart and balanced priorities are supported by legislators on both sides of the aisle. MLBA has strong champions in the Minnesota Senate and House with both republicans and democrats.
We are well-positioned, because of strong education and aggressive advocacy, for advancing and defending bills to make sure we continue to provide choice and value for our customers, better our industry, and defend our membership of small businesses.
Next session we'll see a new Chair of the House Commerce Committee. Most of the members of the committee will also be new. The Senate Commerce Committee is expected to stay the same, under the capable leadership of Sen. Gary Dahms (winner of the MLBA Elected Official of the Year at the Awards Dinner, October 21st).
Several House Republicans who championed issues we opposed (such as Sunday sales, broad direct-sales exemptions for craft breweries and distilleries, and dismantling our smart and balanced three-tier system) will no longer be part of the legislature due to retirements and the election.
We will remain vigilant on minimum wage, tax, and gambling issues which will take on a larger statewide discussion. Several Democrats and Governor-elect Walz have pledged support for a statewide $15 an hour minimum wage. We're concerned about new packaging and mandatory benefit proposals that hurt small businesses and their employees.
Lastly, some – on both sides of the aisle – continue a push for alcohol everywhere with wine, beer, and/or spirits in grocery, convenience, and/or pharmaceutical outlets.
Stayed tuned for information regarding our annual Legislative Day at the Capitol and our legislative agenda. Your participation in our easy and effective advocacy program is vital to educate legislators and assist our industry, members, and consumers. Thank you for your support!