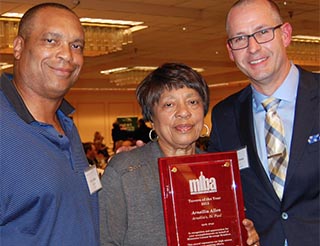 Long time MLBA Member Arnellia Allen of Arnellia's Nightclub on University Avenue in St. Paul passed away on December 21st, she had been battling ovarian cancer. "Miss Arnellia" as her friends and employees knew her, was the recipient of the MLBA's Tavern of the Year Award presented to her at the 2015 Midwest Expo.
Arnellia's opened in 1992 and had recently closed in April of 2017. They were MLBA members for all 25 years of their existence.  Arnellia's was know for their southern style cooking and best known for the musical acts that performed on their stage. Artists such as Bobby "Blue" Bland, Shirley Murdock, the Blue Notes, Sounds of Blackness, and many more R&B, blues, jazz, hip hop and gospel groups played at Arnellia's over the years.
Raised on a farm in rural Mississippi with 14 brothers and sisters, Arnellia moved to St. Paul in 1957 where she raised a family and worked at a paper factory and also worked nights in the hospitality industry. In the mid 80's she opened the Metro Bar in downtown St. Paul. Then in 1992 she opened Arnellia's on 1183 University Avenue in St. Paul until her retirement earlier this year.
Allen is survived by her sons, Jerry and Larry Allen, eight siblings and seven grandchildren.