Photos from the Event
Scroll down for Hospy Award Winners and a complete list of vendors.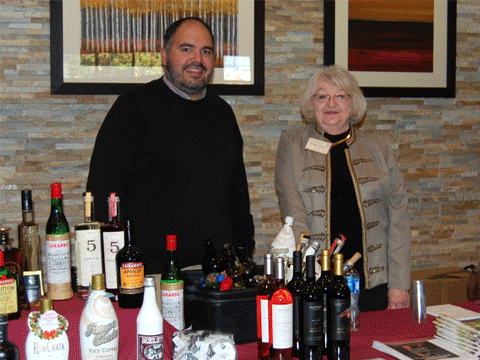 ---
Hospy Awards 2017
MLBA Executive Director, Tony Chesak hands out several Hospy Awards after dinner.
Hospy Hall of Fame Inductee
Bob Pallansch
Double R Bar & Grill, Grey Eagle, MN

MLBA Executive Director Tony Chesak, inducts Bob Pallansch into the MLBA Hospy Hall of Fame. Bob has been a board member of the MLBA for over 20 years and is one of the most active members. He has been a strong voice for members in Greater Minnesota and is not afraid to speak his mind whether it's at a Board Meeting or lobbying his elected officials. A strong leader in the West Central MN Beverage Assoc., Pallansch was the recipient of the Tavern of the Year Award in 2010.
2017 Package Store of the Year
Vernon Crowe
Selby Wines & Spirits, St. Paul

Vernon Crowe, the owner and operator of Selby Wines & Spirits in St. Paul was chosen as the Package Store of the Year for 2017. A long time member of the MLBA, Crowe is very active in the Selby neighborhood of St. Paul, where he grew up and has been in business for nearly 20 years. With a business degree from Link University, Crowe has always been in retail, working with his father in Texas and managing a store on Lexington before he purchased the liquor store on Selby Ave. He brings experience and perspective on issues important to retailers and was an easy choice for this year's award!
2017 Tavern of the Year
Billy Christenson
Dick's Bar, Osseo

Bill Christenson was chosen as the 2017 recipient of the Tavern of the Year Award from MLBA. A member of the MLBA for over 30 years, this honor was long overdue. Dick's Bar has been a fixture in downtown Osseo since Bill's father Dick opened the bar in the 1950s. Billy, along with his wife Maxine, can be found behind the bar or serving customers. They represent the true spirit of a small business where most of their customers know them and are their friends. If you've never been to Dick's you must go check them out. Try the Billy Burger!
2017 Restaurant of the Year
Tim Mahoney
Loon Cafe, Minneapolis

Accepting the Award for Restaurant of the Year is Tim Mahoney of The Loon Cafe in Minne­apolis. A Board Member of MLBA for several years, Mahoney is very active in the politics of Minneapolis, lobbying on behalf of other small businesses on issues like opposing Paid Sick & Safe Leave and $15 min wage. Mahoney has also become more active in state issues. He has testified on behalf of MLBA members many times at the State Capitol. Tim is a deserving recipient of Restaurant of the Year!
2017 Friend of the Retailer
Justin Ashton
Beam Suntory

A true Friend of the Retailer, Justin Ashton of Beam Suntory epitomizes what it means to be a true friend to MLBA Members. Ashton took over the reigns of Beam Suntory for the Minnesota region after Barry Zilka's retirement last year. Ashton has been one of the strongest supporters of MLBA through sponsorships of our Online SALES alcohol awareness training course, PROOF advertising and all MLBA events. Thank you Justin for all you do!
2017 Friend of the Retailer
Jason Ospina, presented by Marion Dauner
Vinocopia

2012 Hall of Fame Inductee Marion Dauner of Vinocopia presents a Friend of the Retailer Award to her co-worker and friend Jason Ospina. She initially nominated Jason for an employee Hospy Award, but it was determined that Ospina deserved a Friend of the Retailer nomination for all his support of MLBA at every Spring Conference and Expo for the last several years, so we had a little fun and "surprised" Jason with the honor at the end of the ceremony. Congratulations, Jason!
2017 Employee of the Year
Lou Davis
Keg N Cork,
Bemidji

MLBA Board Member Mitch Rautio presents an Employee of the Year Hospy Award to his employee Lou Davis at the Keg N Cork in Bemidji.
Hospy Hall of Fame
(since 2000, began in 1992)
2000....Bill Lynch....Jim Beam Brands....Edina
2000....Duane Kasten....C 4th Liquors....Long Prairie
2001....Darrell Ansel....Chicago-Lake Liquors....Mpls
2002....Jeff Van Schoick....Brown-Forman....Mpls
2003....Dave Grivette....The Abbie....Aurora
2003....Jimmy Haracz....Jimmy's Bar & Lounge....Mpls
2003....Marlys Olson....Spot Supper Club....Int'l Falls
2003....Glen, Helen Whiting....Vining Palace....Vining
2004....Tom & Jerilyn Platz....Tom & Jerry's Bar....Sanborn
2005....Bob Ourada....Pabst Brewing....Savage
2005....Ron Doty....T.J. Finnegans Pub....Mankato
2006....Linda & Bob Feuling....Westside Liquors....St. Cloud
2006....Jack Doran....Future Brands....Edina
2007....James "Bubba" Forward....Koscak's Bar....Chisholm
2007....Herby & Linda Dahl....Herby's On & Off....Carlos,
2008....Bill Bennetts....Glen Lake Sales....Mpls
2009....Harold Rutstein....Wirtz Beverage....St. Paul
Hospy Hall of Fame

2009....Sid Applebaum....Sid's & Big Top's....St. Paul
2010....Dean Phillips....Phillips Distilling....Mpls
2010....Dennis Dahl....D. Dahl's Charhouse....Detroit Lakes
2010....Rosie Johnsen....Obb's Sports Bar....St. Paul
2011....Howie Zimmer....Howie's Sports Bar....St. Cloud
2011....Paul Morrissey....Capitol Beverage....Fridley
2011....Colin Minehart....Main Street Grill....Alden
2012....Marion Dauner....Vinocopia....Richfield
2012....Joe Klinkhammer....Klinkhammer Financial....Northfield
2013....Paul Kaspszak....MN Municipal Beverage Assn
2013....Mike Madigan....MN Beer Wholesalers Assn
2014....Mike Hansen....Ham Lake Liquor....Ham Lake
2014....Dan Dahlin....The Buttery....St. Paul
2014....Mick Detviler....Gluek/Cold Spring/Fytenburg
2015....Barry Zilka....Beam Suntory....Edina
2016....Jack Lanners....MGM Wine & Spirits....Woodbury
---
Trade Show List of Vendors
Please call or email this impressive list of vendors at the 2017 Midwest Expo.