The largest charitable bingo jackpot ever awarded in the US was paid out March 30th at MLBA Member "Double R Bar & Grill" in Grey Eagle. Owner and MLBA Board Member Bob Pallansch has been a strong supporter of electronic gaming and was one of the first bars to have electronic pull-tabs in September of 2012.
Now one of his regular customers, Steven Ahrens, hit the jackpot of over $142,000 on the Electronic Bingo game "Voodoo Guru" on Friday, March 30th.  There was a check presentation at the Double R on Wednesday, April 3rd, from the Grey Eagle Lions Club, the charity that runs the gambling operation at the Double R. See below.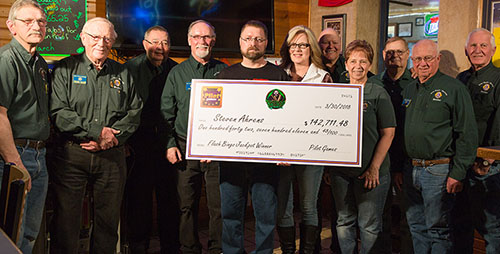 "It's so great this this went out at a site that has been such an important part of the success of electronics in Minnesota and an to an owner who has been an advocate for e-gaming over the years." exclaimed Pilot Games CEO and founder Jon Weaver.
Pilot Games is an MLBA Gold Allied member and has e-pulltabs, electronic linked Bingo games and weekly tournament games in over 750 bars and clubs in the state of Minnesota. See the Pilot Games website here.