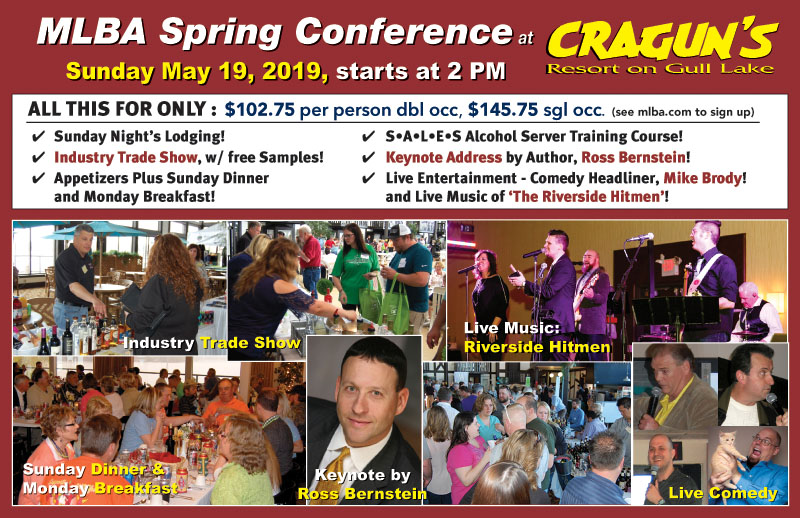 This year's   20th Annual MLBA Spring Conference at Cragun's is Sunday, May 19, 2019!   If you have not yet signed up OR have never been to this event, NOW'S THE TIME TO EXPERIENCE THE MOST FUN AND INFORMATIVE CONFERENCE WE'VE EVER HAD!
Click here for an online registration  or Click here for a printable PDF registration.
First the INFORMATIVE:
From 2pm-3pm we will have a S.A.L.E.S alcohol awareness class. Learn about preventing underage sales, how to spot fake ID's, how to deal with intoxicated patrons, recognize compliance checks and much more!
At 3pm, we will be privileged to experience best selling author and inspirational speaker Ross Bernstein!! Ross has written over 50 books and is here to present: "The Champion's Code: Building Relationships Through Life Lessons of Integrity and Accountability from the Sports World to the Business World."  (Scroll down to learn more.)
We then transition into our vendor sponsored Trade Show from 4-6:30pm around Cragun's huge indoor pool area with Wine, Beer and Spirits vendors as well as Insurance, Electronic Pull-Tabs, Ice, Point-of-Sale, Business Brokerage and much more!
Now the FUN!!
A fantastic 3-course sit-down dinner  (sponsored by Illinois Casualty Co.) will be served at 6:30pm with wines provided by Vinocopia. After dinner we will be entertained by the comedic relief of the world renowned Mike Brody! HE'S HILARIOUS!!! After all that, the party's just getting started. After dinner, we will "dance 'til dawn" to the wildly popular and Minnesota's own, Riverside Hitmen , a six piece band that plays a wide variety of hit music from the 60's to today!
What a line up! What a night to celebrate our industry! IT'S OUR BEST LINEUP EVER! ALL THIS FOR $102.75 per person double occupancy or $145.75. Don't wait, get signed up today!!!
Photos from last year's MLBA Spring Conference
For just $145.75 single occupancy and $102.75 per person double occupancy a One-Night Package Includes:
Sunday Night May 19th Lodging!
S.A.L.E.S Server Training at 2pm
Special Keynote Speaker, Ross Bernstein at 3pm
Industry Trade Show! 4pm – 6:30pm in the pool area
Sample products & services
Delicious Three Course Dinner!  6:30pm – 7:30pm in the main dining room
Live Comedy Show Headliner: Mike Brody – 7:30pm  in the main dining room
Live Music of the "Riverside Hitmen" 8:30pm – Midnight – in the pool area
Golf at Cragun's famous "Legacy Courses"– reduced rates!
Monday Morning Breakfast Buffet – 8am – 10:00am
Or you may choose:
Sunday Meetings and Trade Show Only: $10/each
Sunday events including dinner $44.21/each
Click here for an online registration
or Click here for a printable PDF registration.
---
Keynote Speaker: Best Selling Author "Ross Bernstein"
3pm in Lakeview Conference Room
"The Champion's Code: Building Relationships Through Life Lessons of Integrity and Accountability from the Sports World to the Business World"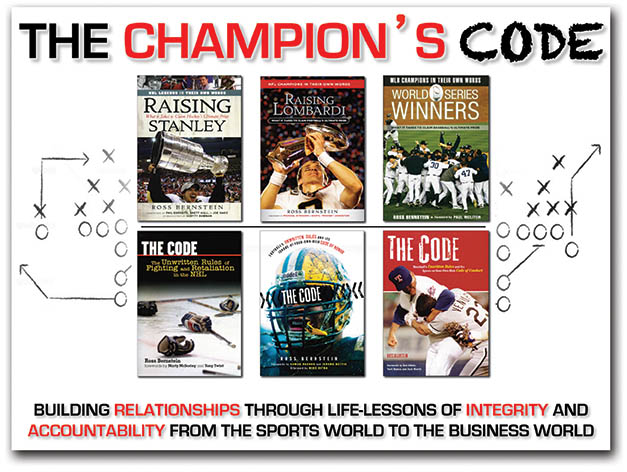 The best-selling author of nearly 50 sports books, Ross Bernstein is an award-winning peak performance hall of fame business speaker who's keynoted conferences for Fortune 500 companies on all seven continents and has been featured on CNN, ESPN, Fox News, and "CBS This Morning," as well as in the Wall Street Journal, New York Times and USA Today.
Ross' program is all about the DNA of what makes champions in sports so unique and how that relates to business. It's based on a series of books he wrote in which he was able to interview more than 1,000 professional athletes and coaches that all had one thing in common — they were all members of championship teams. In his research he concluded that the same metrics and characteristics that were common among champions in sports, were also common among peak performers in business.
There are reasons certain teams win consistently, whereas others don't… and Ross explains why. It's based largely on the "Good to Great" concept of how the best companies are able to separate themselves from the rest of the pack through servant leadership, by creating a culture of excellence, by developing deeper relationships, and by giving extraordinary customer service. Ross weaves sports stories, about the DNA of champions, along with stories of companies who he has worked with around the world — and shares best practice ideas on ways to overcome disruption, while ultimately building stronger relationships. At the core of his message is the simple fact that we like to do business with people who we trust, who we like, and who just "get it" — CHAMPIONS.
In an engaging, provocative, and visually entertaining style, Ross will use inspirational stories and poignant life lessons from the world of sports to show attendees how to:
Create a "culture of excellence" by giving extraordinary customer service…
Generate momentum by utilizing the "currency of karma"…
Follow their moral compasses to win "the right way," with respect, ethics, and integrity…
Be better leaders and create more "buy-in" by embracing change and failure…
Evolve from "order takers" to "trusted partners" by enhancing the quality of their relationships…
---
Live Comedy from 7:30pm – 8:30pm in the Dining Room
The headliner this year will be Mike Brody. Starting comedy on a whim at an open mic in the year 2000, Mike Brody has since devoted his life to perfecting the delivery of his high-energy act. Bucking the trend of the apathetic comedian, his genuine passion for his craft draws audience members into the unique world of Mike Brody: An affable, clever guy whose life is often derailed by his own neurotic, obsessive-compulsive and clumsy tendencies.
Brody has worked with Jay Pharoah, Dave Attell, Patrice O'Neal, Emo Philips, Joy Behar, Doug Stanhope, Doug Benson, and legendary street performer/madman/savant Wesley Willis. He is the official event comedian for the SyFy Channel's TV show "Ghost Hunters" and has also appeared on the nationally syndicated radio program "The Bob & Tom Show" as well as "The Dan Patrick Show".
The other comedian at this year's show is Casey Flesch.
Casey is a fun, light hearted comedian hailing from Minneapolis.  He has performed in bars, breweries, and comedy clubs around the US and Canada.  He has done the 10,000 laughs Festival, as well as LaughFest. He is the Minneapolis producer for Don't Tell Comedy, and has opened shows for comedians Stewart Huff, Hal Sparks, and Josh Blue. His silly stories and creative wordplay have delighted audiences across the Midwest.
---
Live Music from 8:30pm – Midnight in the Pool Area
Playing all the hits from the '50's through today, The Riverside Hitmen are Minnesota's premier party band. This all-professional group comes with 4 vocalists, guitar, keyboards, bass, drums, and an optional saxophone, trumpet, and trombone. Let our experienced entertainers bring your event to the n…
Click here for an online registration
or Click here for a printable PDF registration.
---