The MLBA Spring Conference returns to Cragun's on Gull Lake near Brainerd, Sunday May 6th!
Click here for a printable registration form (PDF)
Click here for an online registration form.
For just $145.75 single occupancy and $102.75 per person double occupancy.
A One-Night Package Includes:
Sunday Night May 6th Lodging!
S.A.L.E.S Server Training: 2pm – 3pm
Seminar on ADA Violations and Employment Issues: 3pm – 4pm
Learn how to protect your business from devastating ADA lawsuits as well as Employment issues like Sexual Harassment and Employee Compensation from MLBA Allied Member, Aaron Hartman.
Industry Trade Show! 4pm – 6pm in the pool area
Sample wines, beers & spirits & services from related industries. Appetizers will be served.
Sit Down Dinner! 6pm – 7pm in the main dining room
Sponsored by Illinois Casualty Co. w/ wine provided by Vinocopia.
Live Comedy Show!   7pm  after dinner in the main dining room
Nationally known comedians from the Comedy Gallery.
Live Music of Hitchville (Acoustic) 8pm – Midnight – in the pool area
Golf at Cragun's famous "Legacy Courses"- reduced rates!
Monday morning breakfast buffet – 8am – 10am
---
Photos from Past Spring Conferences at Cragun's
---
Hitchville to Perform Their Acoustic Show at the Spring Conference (8pm – Midnight, Pool Area)
Hitchville has quickly solidified themselves among the upper echelon of regional talent.  Under the leadership of dynamic lead vocalists Heidi Owens and Matthew Kneefe (pictured), the group's trademark harmonies, down home personalities, and kinetic stage energy leads to an unforgettable live show in which the band has worked tirelessly to produce.
The group's brand new, highly anticipated sophomore album "Soundtrack to Life" is now available everywhere! It includes their first iHeartRadio #1 single "Even When It's Bad It's Good", as well as their newly crowned 2nd iHeartRadio #1 single "Love is the Road" which climbed the iHeartMedia charts faster than ever.  This project has been 4 years in the making, with songs written by some of Nashville's biggest hit-makers, along with the first song ever written and recorded by members of the band.  They also recently realized another big dream of theirs: to start their own country music and camping festival…and so it began!  The First Annual Hitchville Hootenanny took place in August, 2015 with some of the region's most sought after talent and was a resounding success!
---
ADA Lawsuits and Employment Issues Seminar (3pm – 4pm, Lakeview Conf. Room 2)

Aaron Hartman of Allied Member Monroe Moxness Berg PA will talk about proactive steps to avoid becoming a target of an ADA lawsuit and employment-related claims.
Americans with Disabilities Act. By the time a lawyer visits your property with a tape measure, it is already too late. Learn the steps you can take to avoid becoming the next target of an ADA lawsuit, and what to do if it happens.
Sexual Harassment. The #MeToo movement is not limited to Washington D.C. and Hollywood. Learn the best ways to protect your employees and your business from the kinds of unseemly problems we hear about on the news.
$15/hour Minimum Wage. Few topics have caused more sleepless nights to operators in Minnesota's largest cities than the $15/hour minimum wage. Learn what is required of your business and the steps necessary to comply with the new and expected regulations in Minneapolis and St. Paul.
For more information on this seminar, check out pages 9-10 of your 2nd Quarter PROOF Magazine.
---
Live Comedy Show (after dinner approx. 7pm, Main Dining Room)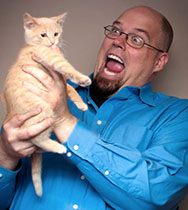 MLBA 's longtime friends at Comedy Gallery Talent, Tom and Scott Hansen have brought some really big names to the Spring Conference over the years and this year is expected to be no exception. Nationally known comedians like Jeff Gerbino, "Fancy" Ray McCloney, Jimmy Wiggins, Jeff Cesario, Dwight York and Scott Hansen have made the MLBA Spring Conference attendees delight with laughter over the past 17 years. Please check your inbox and mlba.com for updates on this year's headliner comedians.
**UPDATE: Comedian Mark Poolos has been announced as one of the headliners for the Spring Conference. Check him out here: https://www.markpoolos.com
Mark Poolos was born and raised in Edina, Minnesota. To start his career he co-starred in two independent films "Attack of the Killer Snow Cone Zombies" and "Joanie Loves Furbies". He did more films, some commercials and some theater but it wasn't enough, so he began his stand-up comedy career. Mark stands 6'7″ weighs in at 350 technically a giant however he is very weak and a wimp. In his routines he weaves story of his life as a bumbling jolly giant in his fast engaging story telling style.
     He has been compared to Louie Anderson. Mark is a true road dog, performing in 40 states and all across Canada. Mark's ultimate dream is to do a film that people actually will have seen.
---
S•A•L•E•S Alcohol Server Training Course (2pm – 3pm, Lakeview Conf. Room 1)
MLBA trainer Robert Foster will conduct the SALES Alcohol Server Training Course. This training is free for all Spring Conference registrants and will include topics for both on-sale and off-sale employees:
Underage Consumption & Purchasing
Carding
Valid I.D.'s
Checking I.D.'s
Profiling Customers
Intoxication Factors
Customer Management
Dealing with Intoxicated Patrons
Serving Strategies
Other Managing Issues
AND MORE!
---
To Register: