It is sad to report that long time MLBA Member, Board Member and Hospy Hall of Fame inductee, Bob Feuling of several Westside Liquor Stores in Central Minnesota has passed away.
Bob and his wife Linda got started in the retail beverage industry when the Feulings bought West Side Bar in Little Falls in 1979. Soon he moved to an off-sale operation in a 6,500 square foot store in Little Falls. In 1991 they expanded to Waite Park and in July 1998 to St. Cloud when they bought out Club Liquor next to Cub Foods, and later that year opened a store in Sauk Centre. In 2001 the Feulings entered the Willmar market and then Albertville in July of 2004, and Sartell in October of 2004. In May of 2006, they expanded to Baxter and finally Rice, MN in May 2007.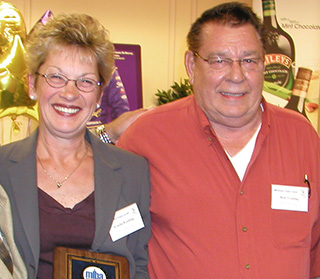 Bob was a kind hearted gentleman who was a strong advocate for MLBA and it's members as he served on the Board of directors from the late 90's through 2016. Westside liquor was voted "Package Store of the Year" for 1994 and Bob and Linda were inducted into the Hospy Hall of Fame in 2006.
"I've known Bob for over twenty years and he taught me so much about the business of alcohol retailing and life. My heart goes out to Linda, Rick, Sarah and Lisa and their whole family. Bob will be greatly missed." ~ MLBA Executive Director Tony Chesak.
Below is Bob's obituary from the St. Cloud Times:
Robert "Bob" Feuling, 86 year old resident of Rice, MN and owner of Westside Liquor passed away Monday, February 21, 2022 at Chateau Waters CentraCare in Sartell, MN. A funeral will be held at 11:00 A.M. on Friday, February 25, 2022 at Trinity Lutheran Church in Sauk Rapids, MN with Rev. David Hinz officiating. Burial will take place in the St. Peter's Lutheran Cemetery in Swanville, MN. Visitation will be held from 4-8 P.M. on Thursday and from 10-11 A.M. on Friday at Trinity Lutheran Church in Sauk Rapids, MN.
Bob is survived by loving wife, Linda Feuling of Rice, MN; children, Kenneth (Vicki) Feuling of Foley, MN, Deborah (John) Butorac of Princeton, MN, Julie Feuling of Alexandria, MN, Sarah (Jeremy) Hollenkamp of St. Cloud, MN, Richard (Shannon) Feuling of Rice, MN and Lisa (Matt) Hagstrom of Swanville, MN. Memorials are preferred to the Feuling Family Birthing Center at St. Cloud Hospital or Trinity Lutheran Church – Sauk Rapids, MN. Caring for Bob and his family is the Shelley Funeral Chapel in Little Falls, MN. shelleyfuneralchapels.com / 320-632-5242