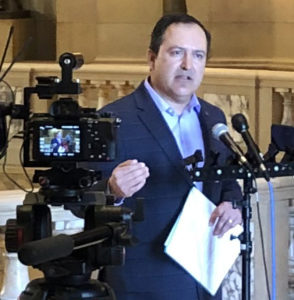 Today a bipartisan group of state legislators (led by Lakeville Representative Jon Koznick) held a press conference to call on their fellow legislators and Governor Walz to allow bars and restaurants, who have been closed for on-premise service under executive order, to sell pre-packaged beer and wine off-premise with food orders. MLBA has been pushing for this proposal for several weeks, and has sent several letters to the Governor and legislators on behalf of our members, as well as engaged our business members and customers. The proposal discussed today  in the press conference was MLBA's suggestion to sell up to 12 packs of beer and two 750 ml bottles of wine. Seventeen other states have included wine and beer options for on-sale during the COVID-19 pandemic.
Thank you to MLBA Board Member, Mike Jennings, and other retailers and legislators for participating in the press event. Mike owns three restaurants in the Twin Cities suburbs and said Minnesota restaurants need policymakers to "rescue" the industry by opening up the option to sell alcoholic beverages with takeout. "As what's happened to most people, this caught us off-hand, off-guard, and really it's getting down to right now who happened to have enough money in their account when this happened," Jennings said. "Our goal is to not only survive now but equally as important to be there for our employees."
Another MLBA member was also quoted in the media:, "I definitely think it's good news," said Brent Frederick, of The Pourhouse and several other Minneapolis establishments. Frederick described it as a "win-win" for both the state and restaurants, tossing a potential lifeline to restaurants while also boosting tax revenues for the state.
To lend your voice and send a message to your state legisaltors and Governor Walz, please click here to find pre-written, customizable letters for customers and business leaders: Click https://www.mlba.com/advocacy for a simple form you can fill out and send.
Links to local media on today's press conference: