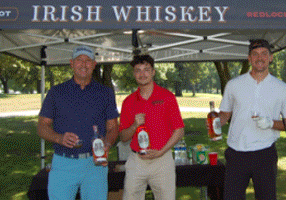 The 34th Annual MLBA Golf Outing is scheduled for Wednesday, July 12, 2023 at Dahlgreen Golf Club, 4 miles west of Chaska on US Hwy 212.
TOURNAMENT IS SOLD OUT!!
Call or email MLBA if you want to be put on a waiting list, or if you would like to be a hole sponsor.
VENDORS: To sign up for hole sponsorship please click here.
Sponsor List (As of 6/1/23)
Anheuser-Busch
Bacardi USA
Bar Happenings
Beam Suntory
Brown-Forman
Cloud Retailer
Constellation Brands
Dahlheimer Beverage
Diageo
Eide Bailly
Gray Duck Spirits
Heaven Hill Distilleries, Inc.
Illinois Casualty Company
Johnson Brothers Liquor Company
Kaplan, Strangis and Kaplan, PA
Kennedy & Fitzgerald CPAs
KLB Insurance Services
Klinkhammer Financial
MGM Wine & Spirits Inc.
MolsonCoors
Monroe Moxness Berg
Quinny's Sports Pub
Paulet Slater
Rate Zero LLC
Red Locks Irish Whiskey
Rosedahl Public Affairs
Shamrock Group / Ace Ice
Sierra Nevada Brewing
Third Street Brewhouse
Vinocopia & Cantilever Distillery
West Side Liquor Stores