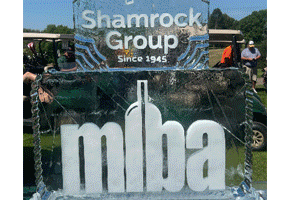 The 34th Annual MLBA Golf Outing was held on Wednesday, July 12, 2023 at Dahlgreen Golf Club, 4 miles west of Chaska on US Hwy 212.
The day started out cool and cloudy but the skies turned blue just before the Noon shotgun start. The 144 golfers with over 40 sponsors including 17 on course beverage vendors had a perfect July day in Minnesota with temps in the upper 70 and just a light breeze.
Please check back for photos from the event.
The "Scramble" tournament winners were team Gray Duck Spirits with a 19 under par score! Team Chumly's 1 and 2 tied for second with a score of 18 under. 4th Place went to Stick's Tavern and 5th to Kalli's Place. 
Once again a big thanks goes out to Dahlgreen GC staff and all the volunteers from Zipp's Liquor and Kalli's Place. Tony and Mike could not pull off this event every year without the great help we get!
Special thanks to all the vendors and sponsors and the prizes they donated. Special thanks goes out to Illinois Casualty Company for again stepping up and sponsoring dinner, lunch, the Hole-in-one and great prizes at t he #2 tee. Below is the list of sponsors. (Check back soon for photographs of the vendors.)
Hole Sponsor List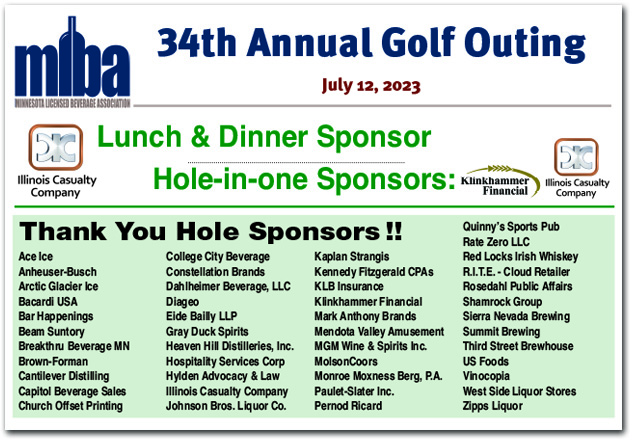 Anheuser-Busch (#8 sampling & prizes)
Bacardi USA (#7 sampling & prizes)
Bar Happenings
Beam Suntory (#15 sampling & prizes)
Breakthru Beverage MN (prizes)
Brown-Forman (#13 sampling & prizes)
Capitol Beverage (Bottled Water)
Cloud Retailer -RITE (prizes)
Constellation Brands (#3 sampling & prizes)
Dahlheimer Beverage
Diageo (#12 sampling & prizes)
Eide Bailly
Gray Duck Spirits (#17 sampling & prizes)
Heaven Hill Distilleries, Inc. (prizes)
HSC Brokers (prizes)
Illinois Casualty Company (#2 Hole in One, Dinner & Lunch Sponsors, Prizes)
Johnson Brothers Liquor Company (prizes)
Kaplan, Strangis and Kaplan, PA
Kennedy & Fitzgerald CPAs
KLB Insurance Services
Klinkhammer Financial (#14 Hole in One Sponsor)
Mark Anthony Brands (#16 sampling & prizes)
MGM Wine & Spirits Inc.
MolsonCoors (#18 sampling & prizes)
Monroe Moxness Berg
Quinny's Sports Pub
Paulet Slater
Pernod Ricard (#5 sampling & prizes)
Rate Zero LLC
Red Locks Irish Whiskey (#11 sampling & prizes)
Rosedahl Public Affairs
Shamrock Group / Ace Ice (#1 sampling & ICE)
Sierra Nevada Brewing (#14 sampling & prizes)
Summit Brewing (#9 sampling & prizes)
Third Street Brewhouse (#10 sampling & prizes)
US Foods (prizes)
Vinocopia & Cantilever Distillery (#6 sampling & prizes)
West Side Liquor Stores
Zipp's Liquors (Volunteer Work & Prizes)