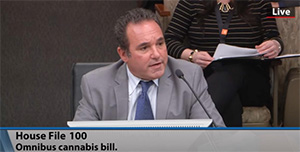 As you probably already know, THC infused beverages and edibles are not allowed to be sold in licensed off-sale businesses.  The current bill being heard in the legislature, HF100, legalizing cannabis in the state, includes provisions to change state law to allow off-sale businesses to sell these low potency products.
MLBA Vice President of Off-Sale, Dean Rose, owner of Broadway Liquor Outlet in Minneapolis testified on Wednesday, January 11th in the House Commerce Committee in favor of these provisions. His testimony is below and you may watch the hearing on YouTube here.
Madam chair and members of the committee, good afternoon. My name is Dean Rose. I am the president of Broadway Liquor Outlet. I am a 3rd generation liquor retailer doing business in Minneapolis, since my grandfather started the business in 1948, and have been serving our community for over 30 years.

Today I am here to speak in favor of the many provisions contained in article 1 of HF100 on behalf of the MN Lic Bev Assoc. which has been representing on- and off-sale licensed beverage retailers in the state of MN since 1952. The members of the MLBA are appreciative of being included in HF100, specifically the fixing of language in current law prohibiting retailers from selling low potency products described in HF100 in both liquid and other forms. It is my experience and belief that the public assumes these products would be available in our retail stores for purchase.

The MLBA takes our role in retailing controlled substances very seriously. We have been entrusted with the ability to sell alcohol and tobacco to individuals of legal age as dictated by law in common sense dictates that our members should also be allowed to sell the low potency products outlined in the proposed legislation. Public safety is of utmost importance in this regard and we believe HF100 contains important language necessary to regulate the sale and consumption of these products.

We appreciate the trust being put in us and we look forward to working with all of you as this legislation moves through the process. Thank you.
The bill cleared the first of what may be up to a dozen committee hurdles when the House Commerce Finance and Policy Committee approved HF100, as amended, by voice vote on Jan. 11, 2023 and sent it to the House Judiciary Finance and Civil Law Committee.