Dear MLBA Member,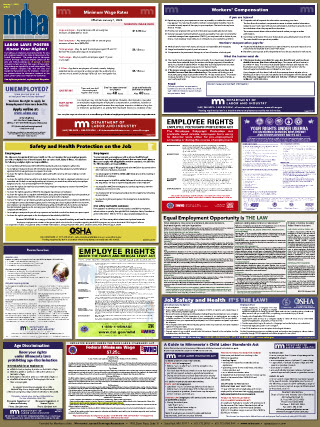 As part of your continued membership in MLBA, we have created a brand new updated "Labor Laws" poster for 2020! This all-in-one poster has all the State and Federal postings required by law to be made visible to your employees.
You should replace your current poster from MLBA with the new one. If you need additional posters, call or email MLBA at 651-772-0910 or email [email protected] and we will send you one.
New on this poster is an updated Minimum Wage posting from the State of Minnesota. The minimum wage will be indexed with inflation at the beginning of each new year so the rate goes from $9.86 (large employer, $500k or more gross) or $8.04 (small employer, less than $500k gross) to $10.00 (large) or $8.15 (small) on January 1, 2020.
MLBA will send out yearly updates to this poster as long as you maintain your MLBA Membership! There were little or no major updates from last year's poster other than the Minnesota Minimum Wage posting and also the Federal OSHA "Job Safety and Health" posting. Two handy guides (that are not required to be posted) are included on
Minnesota's rules on Parental Leave and Child Labor Laws.
Keeping you in compliance and aware of all law changes is just another reason to be an MLBA Member! If you are not already a member, click here.